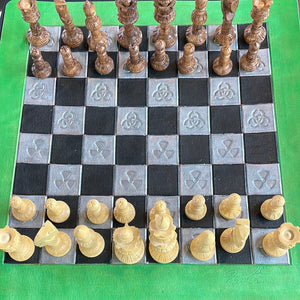 Hazmat Travel Chess Set
Our travel chess sets include a hand-tooled leather board, a carrying quiver, a bag for the pieces, and a set of both chess and leather checkers pieces. Travel sets are great for small apartments/dorms, those that like to travel or take their set to the campground, or would look great with your renaissance festival costume! 
We offer this set with wood pieces or our handmade leather pieces. Learn more about our leather pieces here. We do not make the wood chess pieces.